The Second Wave
I actually started this KAL in the first round, but dropped out when it became clear that my vest is wicked small... Here's a pic of as far as I got:
Now I've decided that I messed myself up by swatching on bamboo, but knitting on metal, so I'm ripping back, and knitting the whole enchilada from scratch on bamboo. I also caused myself problems by using two colors - light blue and gray - that were tonally almost identical, so whenever I knit in anything less than optimal light I made mistakes in the pattern. I'm not considing this combo instead: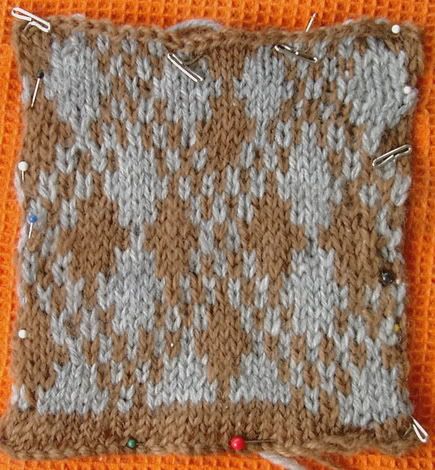 I hope I can get enthused enough to finish this vest again - I think I got really confused about the sizing, because I knit super tight, and it was very hard to figure out if this had any chance of being a wearable garment (for instance, my knitted argyles are very tight and constipated, rather than clearly defined).