My Second Swatch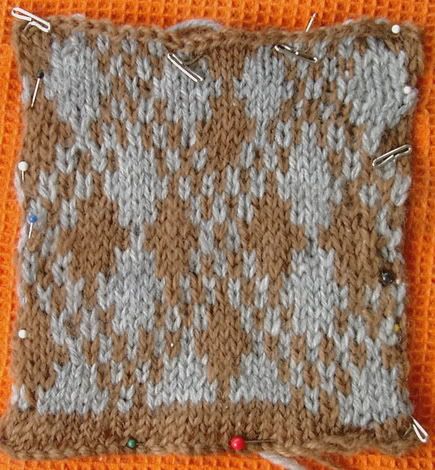 This time I've used the same yarn - Brown Sheep Sports Weight - on a size smaller needle - 6s. The fabric
looks much better - the pattern is clearer (though this could be because I actually FOLLOWED the pattern this
time - and the tension is a bit more even. I tried a different color combo this time - brown and grey - but am
not thrilled with it. For the actual vest I'll go light blue and grey for that preppy (or Civil War ) look.
Not sure what the gauge is yet, but I'm guessing I'll just have to "make it work," as Tim Gunn would say.
Edited to Add: Well, my gauge is still troublesome. I'm basically getting about 7.5 stitches per inch, and
28rows over four inches. I'm thinking I should knit one size bigger, and add a few rows in to compensate.
Does this make sense? I am maths dumb as you may guess.